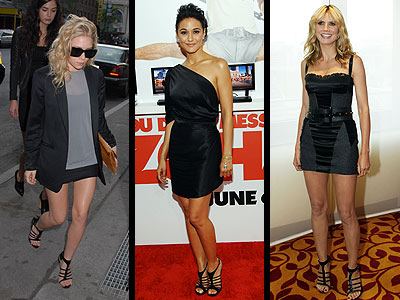 I'm going shoes shopping this weekend (and thrifting next weekend *squeeeeeee*) and I've been contemplating on a pair of gladiator heels. When gladiators first came out, I didn't like them because the flat versions made the feet/legs look ever so slightly stumpy and even with shorts it didn't look any better...but when the heels came out...I was instantly in love.
Sure, they still made the legs look slightly stumpy (like mine need to be any stumpier *rolls eyes*) but there's also something so appealing to them. Maybe it's because they're not so pretty-pretty and that they have a bit of a rebellious look to them, or maybe it's because of my fetish with anything leather but they look gorgeous.
It doesn't really help that the Mother has a pair that I can't borrow because her feet are two sizes smaller than mine.
I'm not much of a heels girl but I do find a chunky feel irrepresibly seductive. Stilletos are nice and all (and I do have a pair; white with black lace trim...yum!) but chunky heels give both support and style, and so I'm veering towards that area.
And I know I may be a couple seasons late, but I've never really been a girl to care about what the fashion trends are right now...and so the appeal of gladiators have just hit me.
Plus, I'm a sucker for anything Mary-Kate and Ashley Olsen wear.